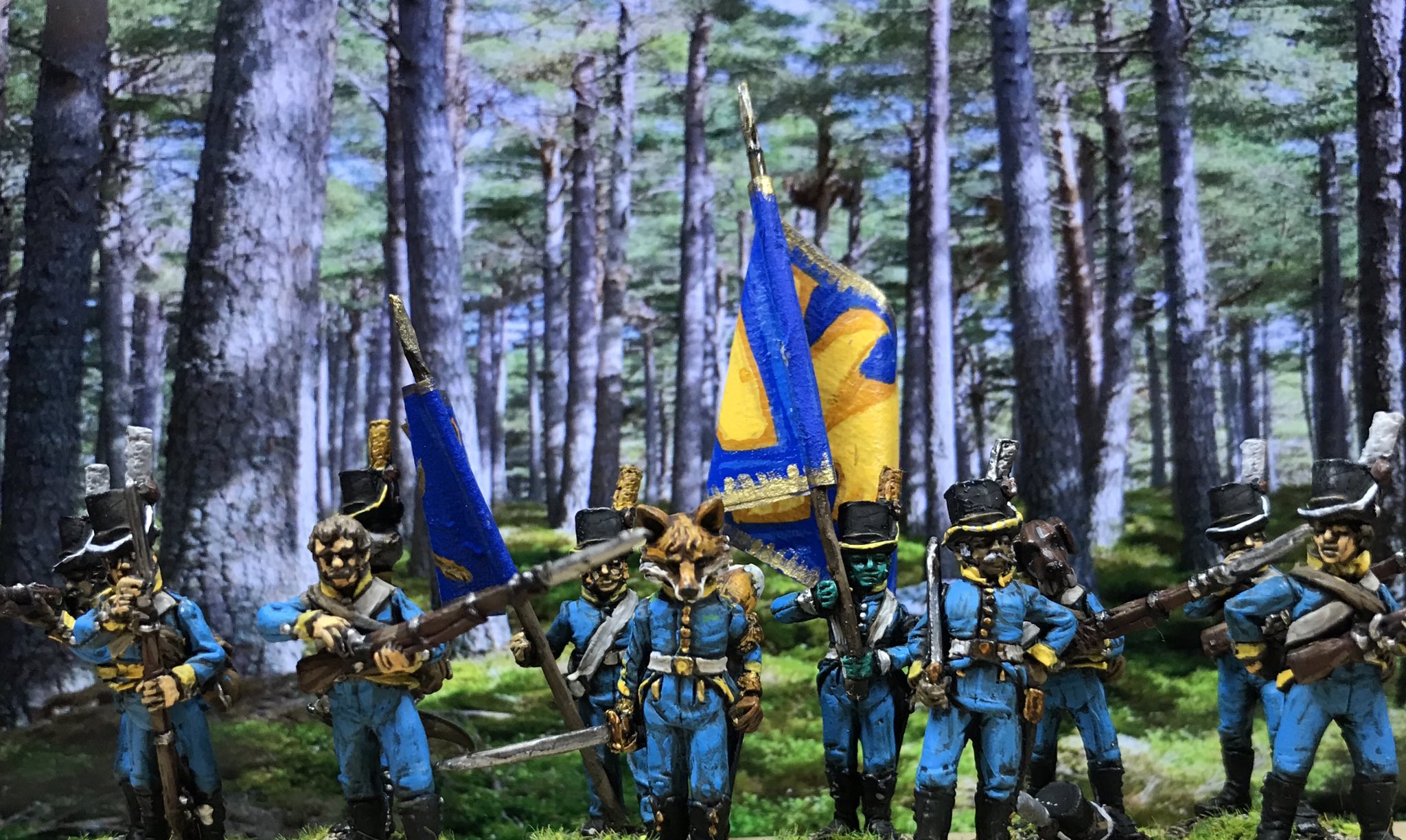 Followers of this blog may be aware I have a undying love for my first RPG I played when I was 12, it was a Swedish RPG called Mutant.  In Mutant the world has risen from the ashes and new Societies has developed.  The game is set in Scandinavia, but not as we know it today. 
Basically following a deadly and incurable epidemic caused by samples from a mission to Mars the human civilization collapses.  The survivors build enclaves and start experimentation on humans and animals, in effect creating mutants, to see how they will survive outside the enclaves.  However conflicts arises between the enclaves and it leads to a nuclear war sealing the fate of the world.

Fast forward a few hundred years and the from the ashes new civilizations start to emerge with mutated humans and animals, some "pure" humans and even some mutants with mental powers. There are remnants of the old worlds scattered all around, and some androids/robots from the old days are still around. In addition there are certain areas where the effect of radiation has left some strange effects on the flora and fauna and these areas are called "Forbidden Zones".

The game is set in Scandinavia, but not as we know it today, and the general level of new technology is equivalent to that of the 19th Century, give or take.  There are steam engines, muskets and some emerging rifle like weapons, heliogram for communication, etc.  Some of the old technology has survived but is rare.
There is a summary of what I have been up to with this project here (if you scroll down a bit).
During the Robot Attack in Nordholmia, discussed in Part 2 (see link here), there will be a detachment of Soldier as part of the defending force – some regulars of the Nordholmia Infantry Regiment. This regiment can trace its origins back to the early days of the Empire and was originally set up as a town militia.
I wanted to do use some miniatures from the relatively new Perry Miniatures range of Swedish Napoleonic soldiers, as I really like the sculpts.  Perry does some fantastic miniatures (here is a link to the Swedish Napoleonic range). I got myself a standing Command Pack and two of the Firing line packs.
They arrived promptly and to "Mutantinize" them I did a few headswaps with some Animal heads from Sally's 4th, link here.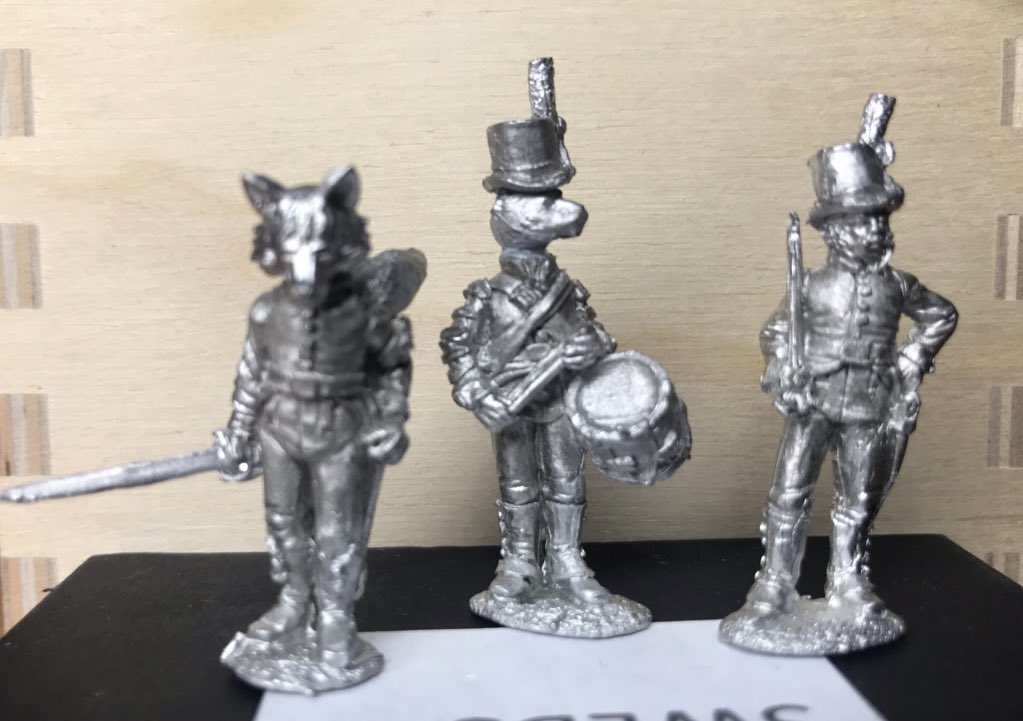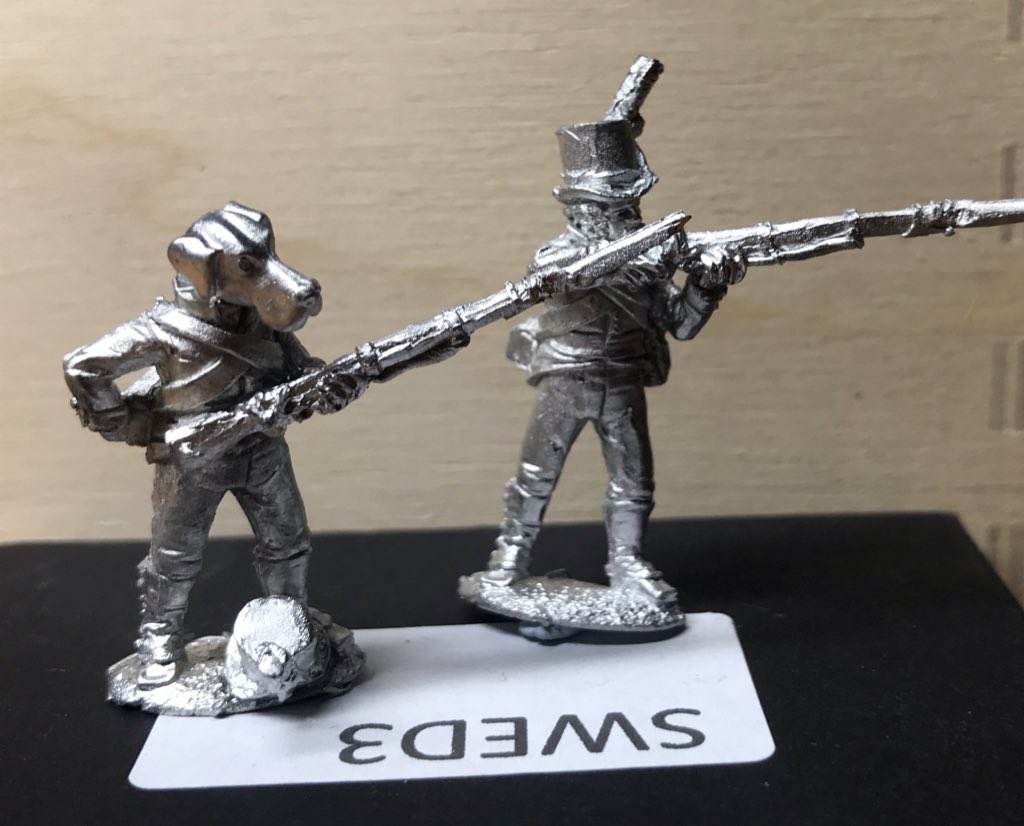 Next was the decision on colour scheme, from the original set of rules and expansions we know that the Pyri Commonwealth flag is basically a Yellow Eagle with a Blue background. So I went with Blue Uniforms with some yellow details as this would fit the flag and also a nod towards the Swedish 18th century uniform of the Great Northern War (and also to that 91:an cartoon character!).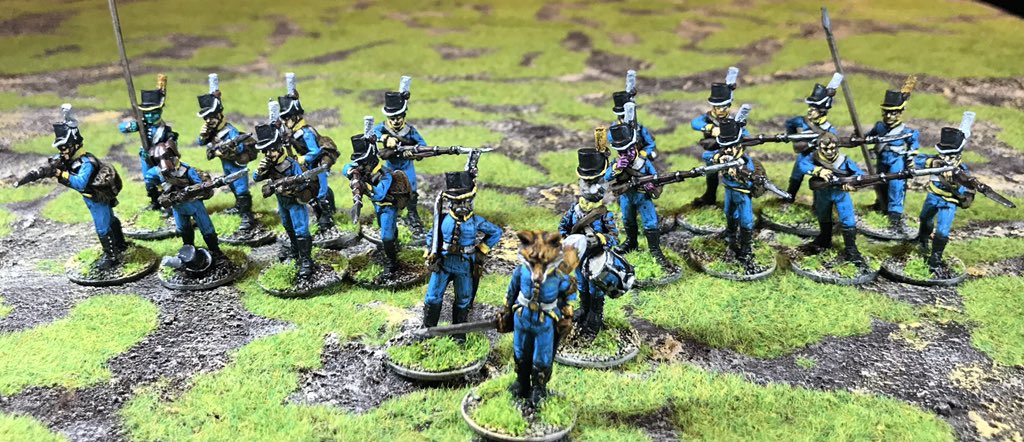 As for the standards I wanted to have a large national flag of the Pyri Commonwealth and a smaller for the Regimental one.  From the "sources" we know the flag for the Commonwealth, there are two versions.
(I) One from the Mutant 2 expansion – the world Map.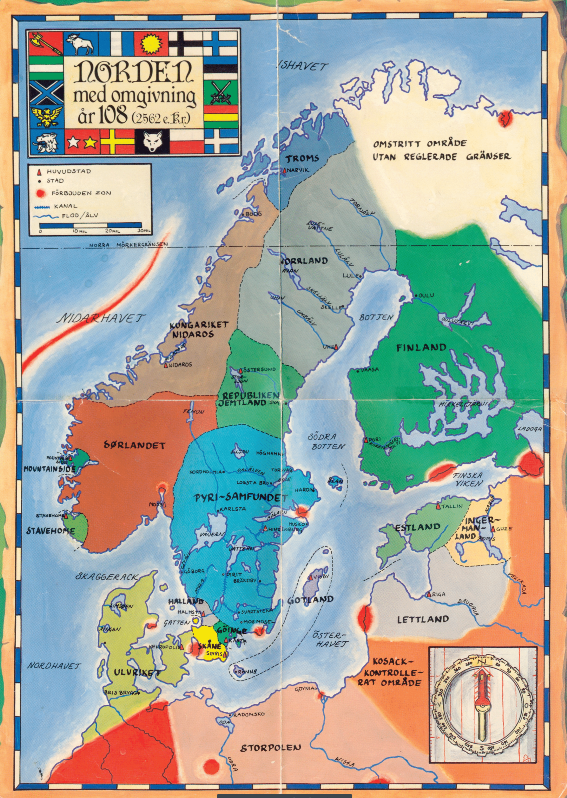 (II) Another one from the Efter Ragnarök module – on the map of Hindenburg.
Giving us these two options: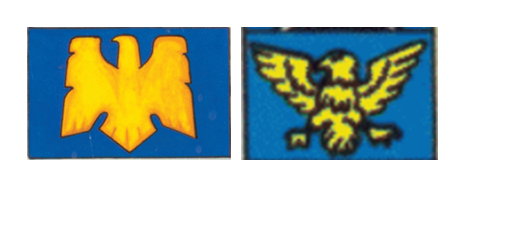 I went with the more stylised version.
For the regimental flag I used the symbol of the County of Dalarna, but replaced the Crown with the Eagle.
I have to admit it being some time ago I did any flags for anything else than 6mm – they tend to be on normal paper you add some glue and bend it a little bit – nothing very elaborate.  I felt this was not appropriate for this project and I wanted to avoid the stiff and printed look you can sometimes get with flags in 28mm scale.  I have seen a few of Sidney Roundwood's amazing hand painted flags (link to some here) and set out to find a quick solution to do something similar – I found this video from Wargames, Soldier and Strategy and an intriguing type of paper was mentioned (it should run if you click on it).
Being a little bit of a materials enthusiast I got this kind of intriguing paper from Amazon (Japanese Calligraphy Paper, 100 sheets) and it worked a treat for me.
I painted the flags with undiluted Vallejo acrylics (clean you brush as you work but wipe it on some paper before you get more paint – this paper is very thin and absorbant. Work carefully!).
This is how they came out.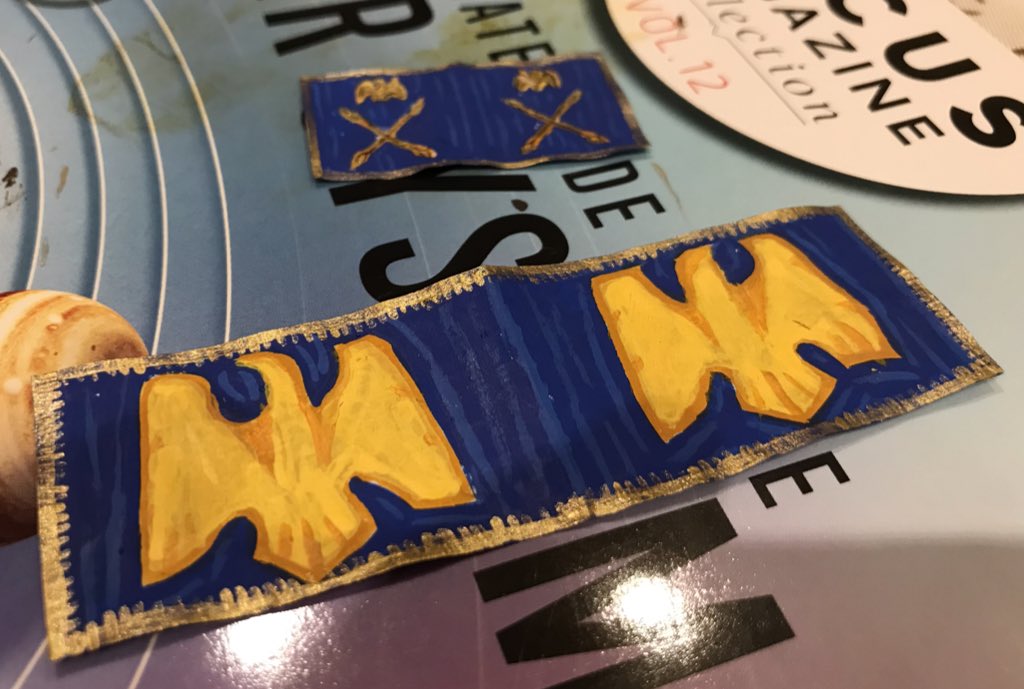 After this is was just a matter of "installing" them on the poles (using some random forest as a background on the Laptop Screen).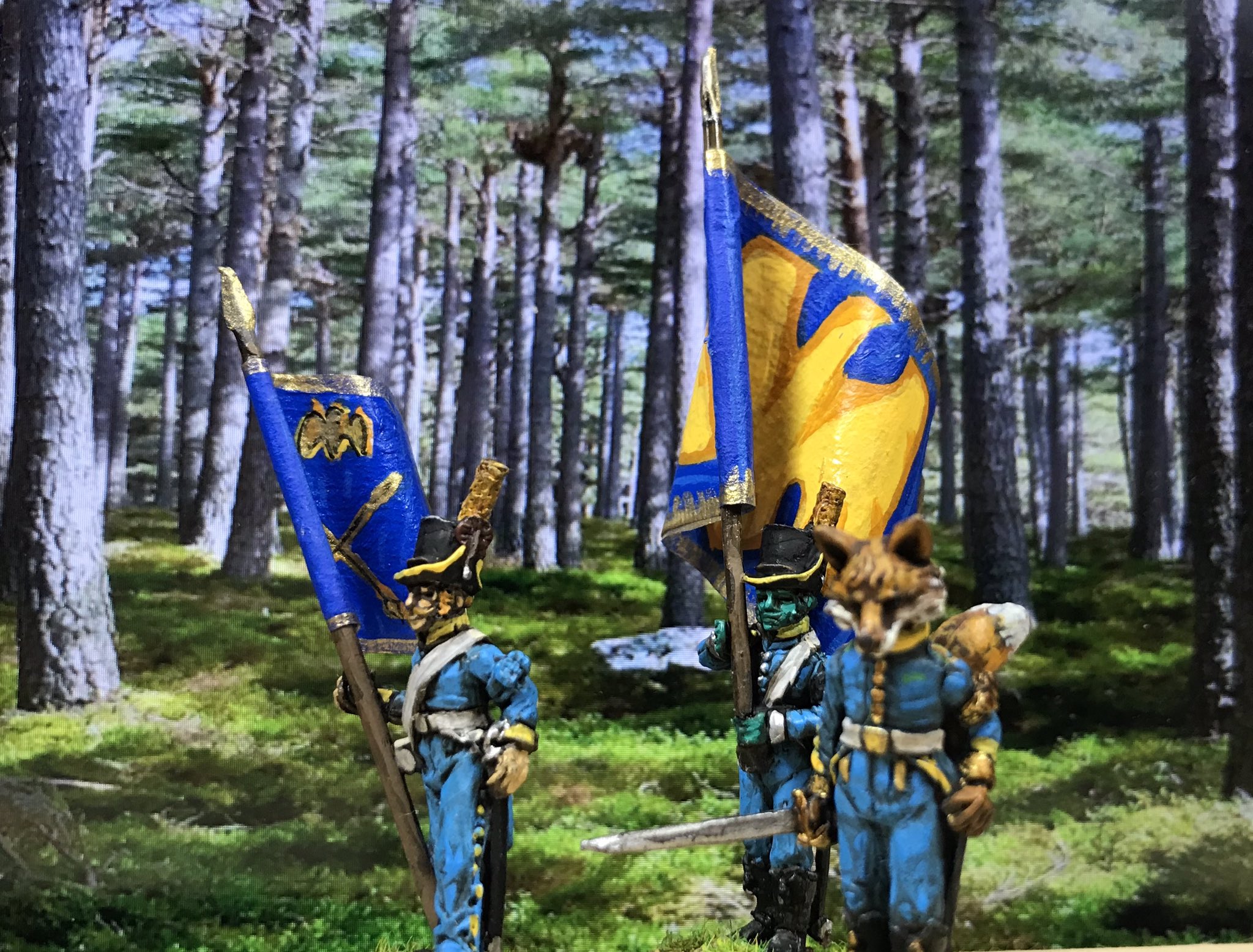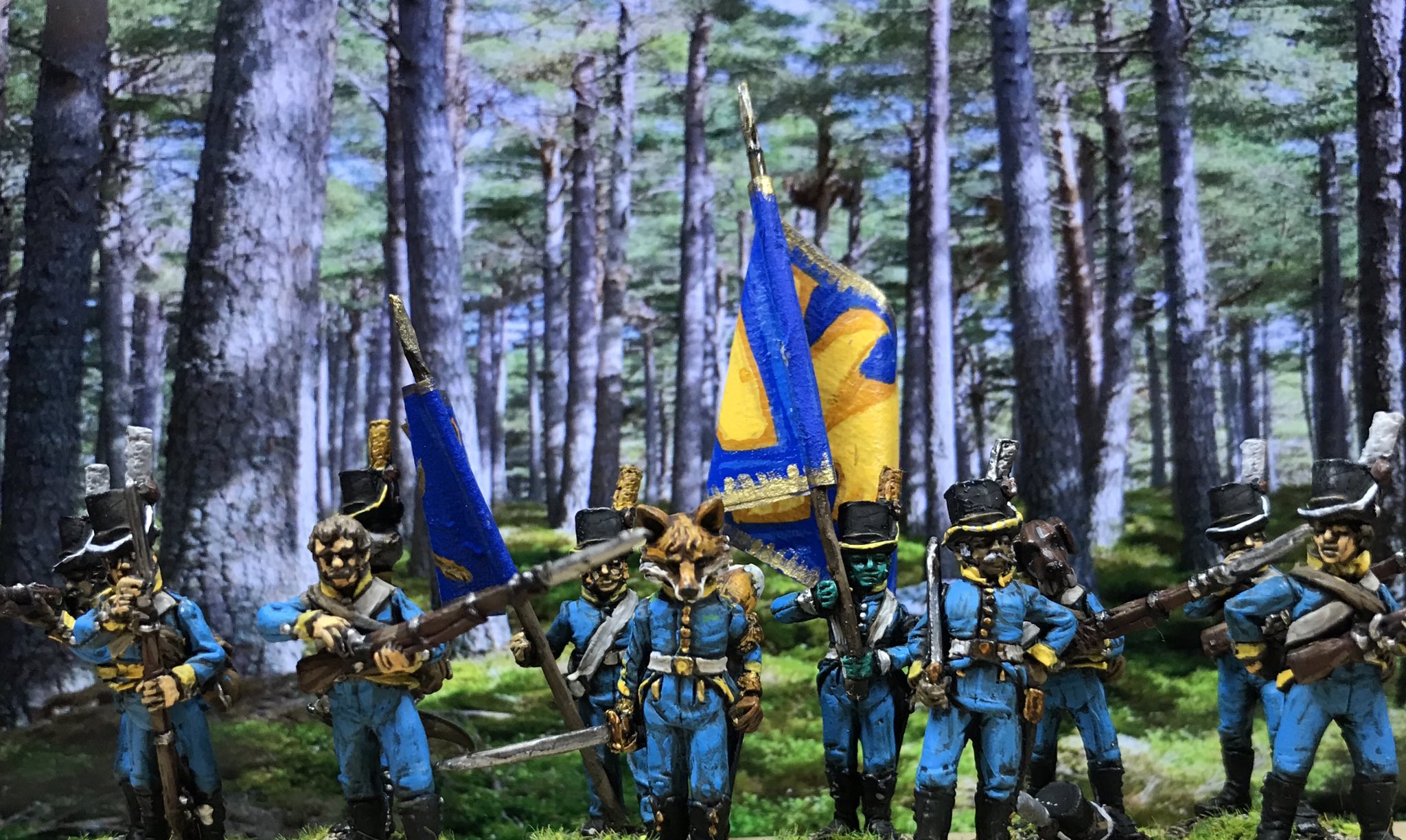 Next I think we need some skirmishers to complement these guys. I am currently working on some heavy Pyri Commonwealth assault cavalry.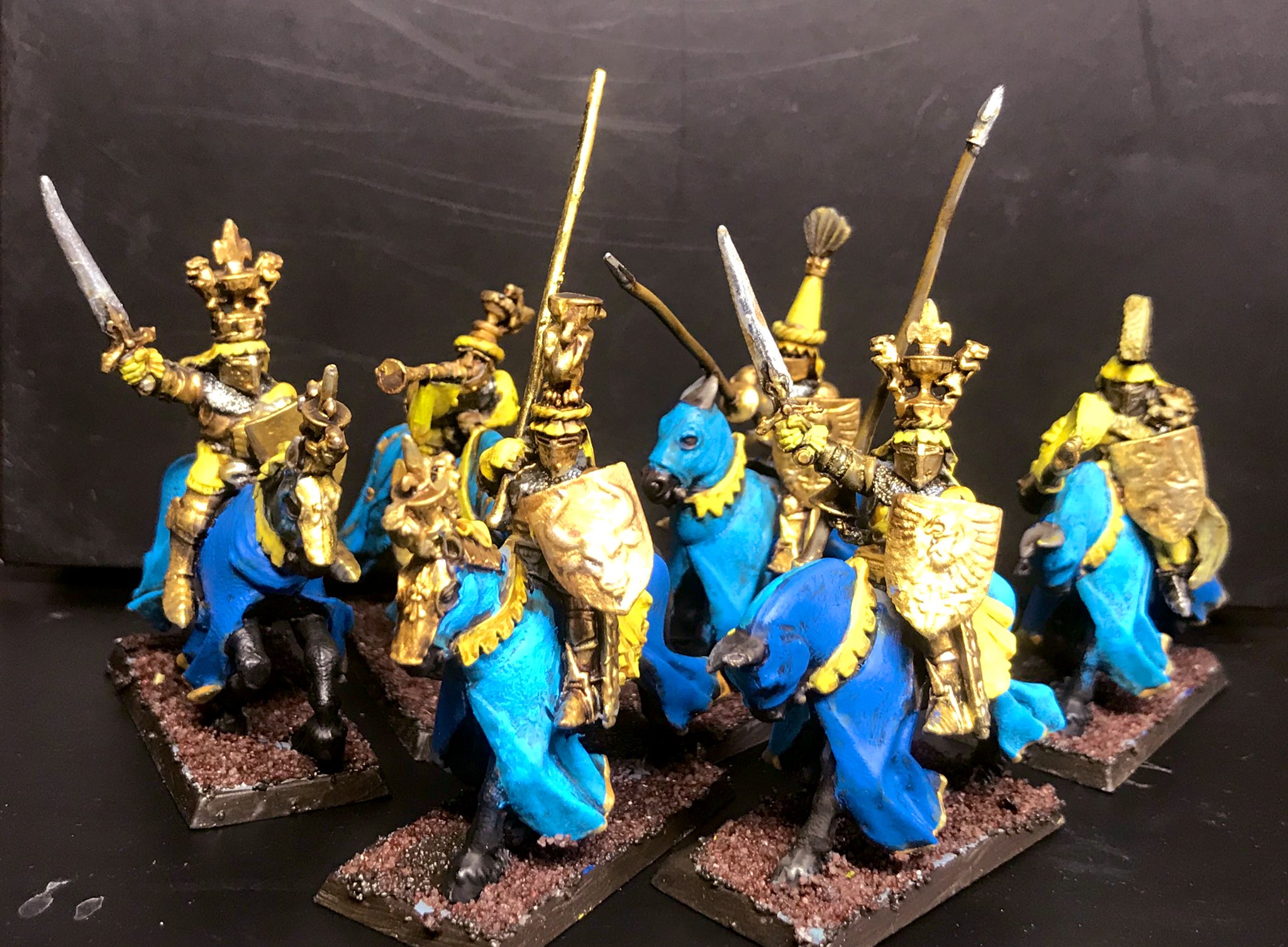 In related news….
NoMAD – A Post-apocalyptic anthropomorphic miniature range in 28mm from Sweden.
In writing this there is less than 3 days remaining on this kick starter that is currently funded and fits into my Mutant 1984 project – check it out here https://www.kickstarter.com/projects/1240892696/nomad
I am a backer but not associated to the team in any way – I hope the kickstarter goes well.
Its based on a small 1:56 scale (28mm) range with a post-apocalyptic touch. 

In the far future our domesticated animals have developed into sentient beings just as humans did so long ago.  

These anthropomorphic citizens has evolved or perhaps were created by a since long gone dying old world that was ruled by humans alone. This is only remembered by the new civilization through legends, stories and myths.

As we have seen before in ancient civilizations a ruling class often need a lesser class to stand upon to "rise" above the masses.  

For the Mutants of the working class the struggle is real, and many take refuge to the wild. The dream to explore ancient ruins and the possibility for a life in luxury and ease after just one successful expedition draws man and mutants alike.  
/ Hope that was of some interest, I personally love this s**t.