This Part 11 of a series of a fair few posts, Part 1 (link here) gives an overview and the philosophy applied to the series – cheap, simple and fun.
A Well
Todays little project is to build a well, with a lever like the one seen in the picture.
You can buy a perfectly adequate one from iron clad miniatures (also check out their terrain in many scales – I have a lot of their buildings and trench systems in 15mm and some of their nice 28mm miniatures too) – more here.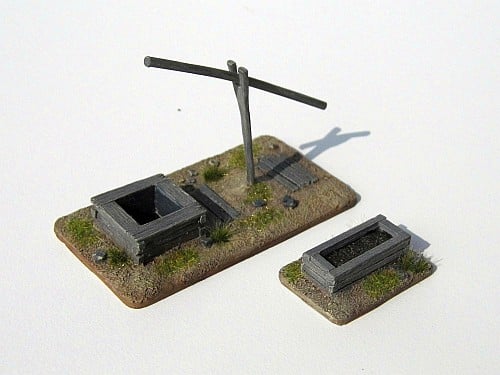 However, we have a pile of coffee stirrers that needs to be used, so we will build one from scratch. Here is a rough outline how it was done (this for a well fitting 15mm miniatures).
And that budget, well we are still at £17.93 as these were all free issue material, so we seem to be able to keep this under control.
Tomorrow we are making something like this, see you then.
/ Hope that was of some interest