I entered Fenris Games #Paintalloween in September last year. This is an annual thing that Ian runs with a few categories painting Fenris Games stuff, with the winners of each getting a £50 to spend on his products. I entered with my Death Dealer that in essence was a black painted model with some grey and Silver detailing, and some generous helpings of red and mainly yellow wash, I wanted to create the effect of a demonic knight riding on his supernatural stead through this lava landscape with the reflections from the lava on the horse. It was, like a lot of my stuff, a little bit of a trial and error and in the end it kind of worked from a distance, so take a step back and have another look at the picture below. The model is depicting the Death Dealer and is based on the famous 1973 paiting by Frazetta with the same name – more here. You make also recall it from the cover of the excellent album by Molly Hatchet in 1978.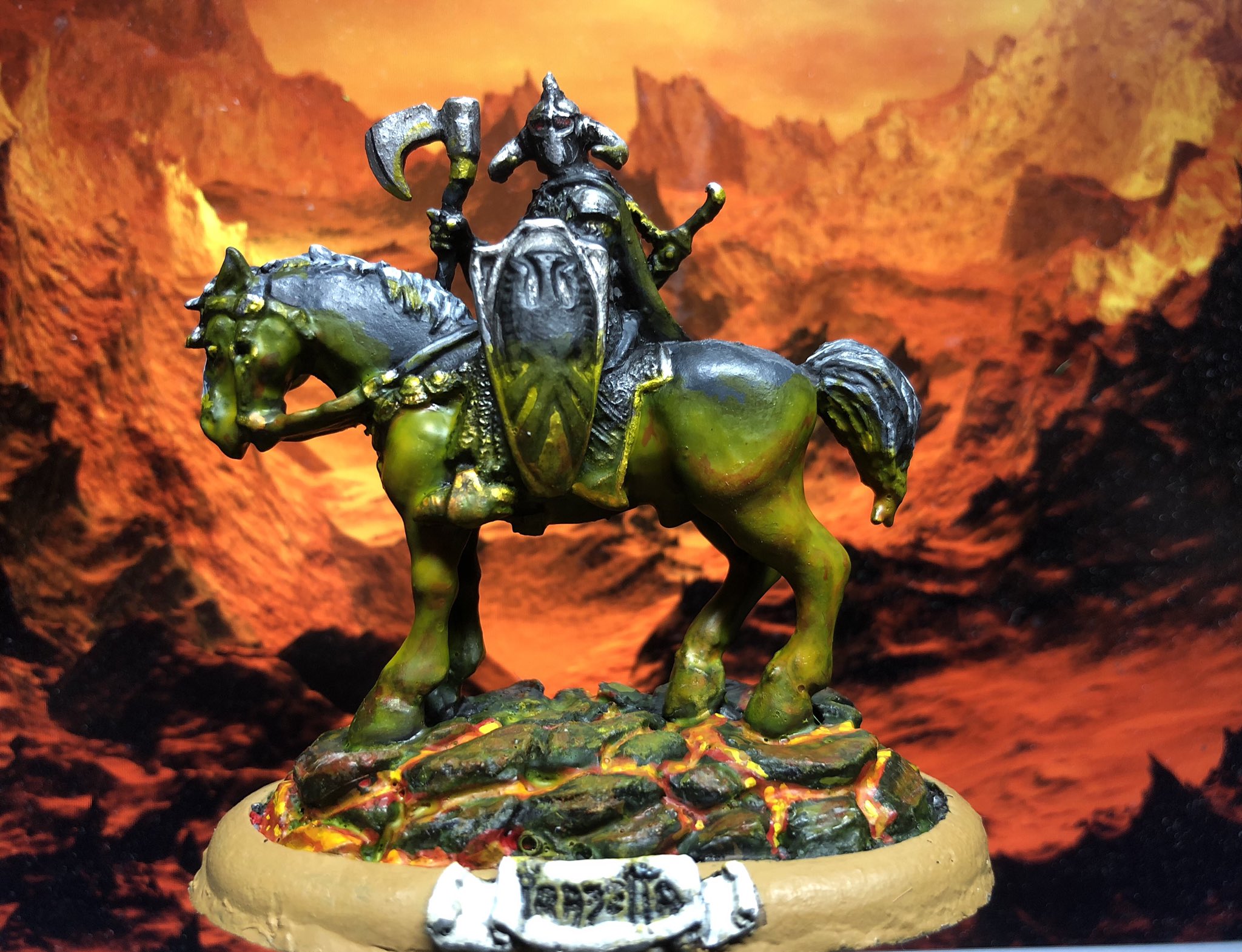 I was lucky and landed a £50 gift card that I put to good use and bought a few things (with a little bit of a top up, they have a lot of really beautiful stuff) – by the way here is the link to the Shop. Go and have a look at what they have – there is so much to explore.
The key miniature I got was a model of the the Cthulhu monster Atlach-Nacha, described by Clark Ashton Smith in his Bood, The Seven Geases in 1934
"The dark form ran toward him with incredible swiftness. When it came near he saw that there was a kind of face on the squat ebon body, low down amid the several-jointed legs. The face peered up with a weird expression of doubt and inquiry; and terror crawled through the veins of the bold huntsman as he met the small, crafty eyes that were circled about with hair"
You can read more about Atlach-Nacha here.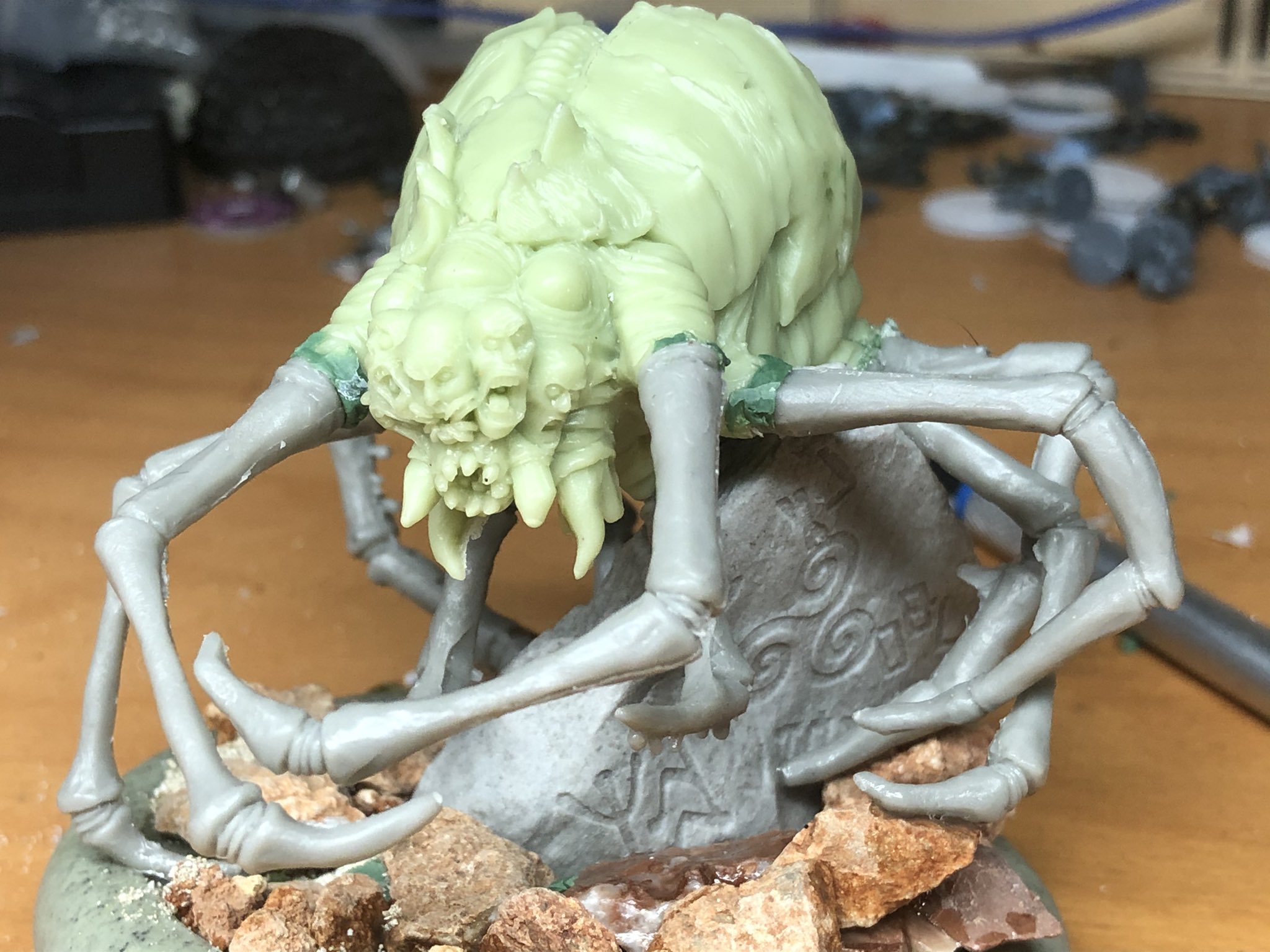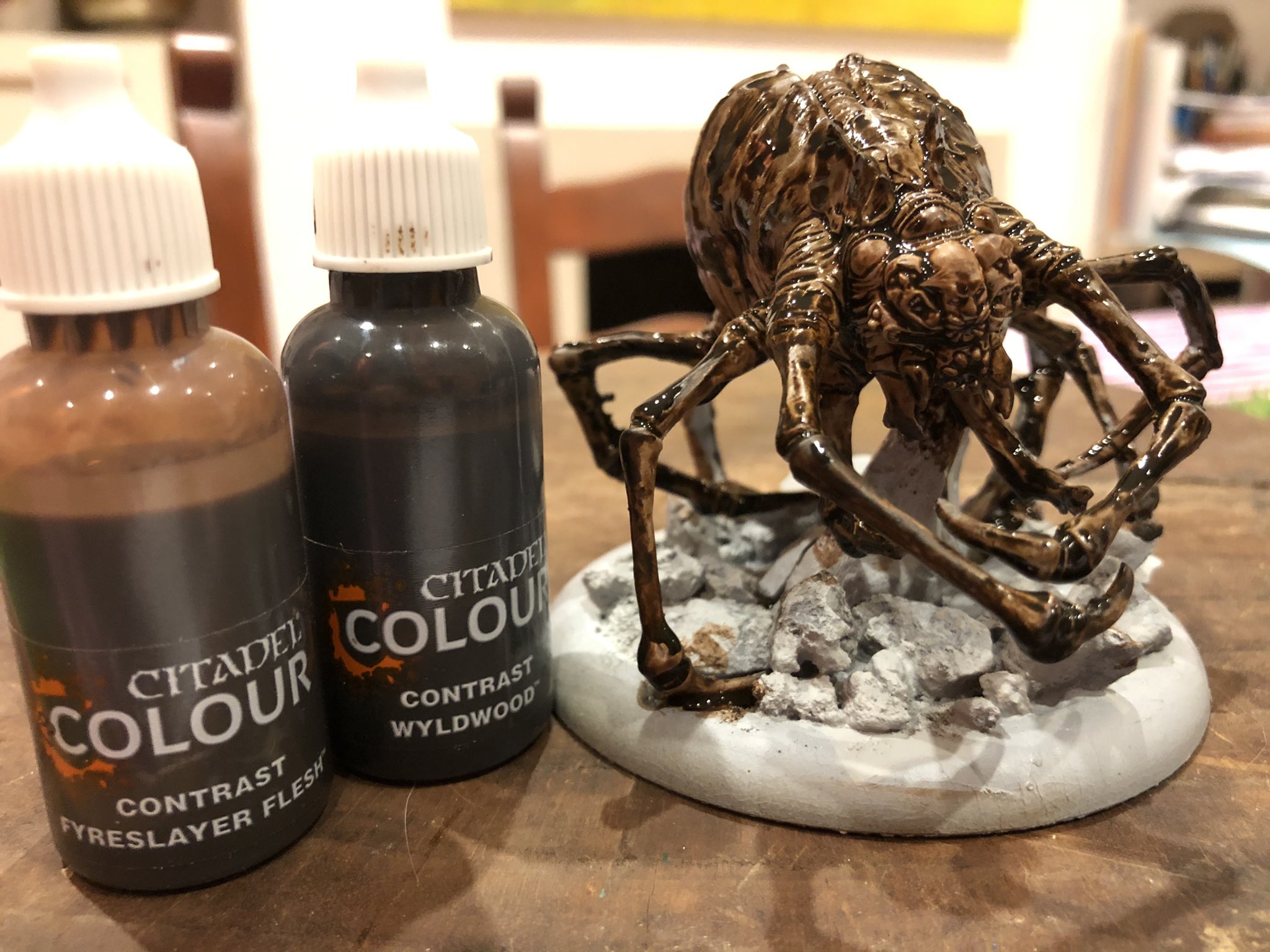 Then I just filled in the details gave it a few washes and became really happy with the results, it is a fantastic model. I would love to see what a more accomplished painter would do with it.
In other news, I recently found a sprue I must have got for free in a magazine with six Landsknechts, that I thought I could something fun with for the Mutant 1984 project.
I believe they were from this set (from Warlord Games)
So in usual style we need to do some headswaps with the fantastic critter heads from Sally 4th (link here) – there is fair amount of different heads for all your headswapping needs!
This will be a an elite body guard unit to one of the big trading house – the rainbow team.
Star Grave and 5 Parsecs from Home
There is a Nick Starter currently running for the new Frost Grave variant in Space – Star Grave, there is about 2 week left when I am issuing this blog.
For me I just needed to see these two pictures (the first from the Mercenary Set and the Second from the Crew set) and I am in at least buying the figures, because these are perfect for the Mutant 1984 project. (look at those heads). You can check out the Nick Starter here. I just got all the plastic models without the rulebook which still comes with the bonus items.
In addition you should really check out another pre-order set and this is the new edition of Five Parsecs from Home that you can pre-order now (with immediate downloadable PDF copy) for delivery in May this year, same time as Star Grave. Well you will need the same miniatures for both so why not get both sets. I have bought the Five Parsecs book and will only get the Star Grave miniatures (You can check out his game and pre-order the book here).
I have played the earlier edition of FPFH and really enjoyed it. I have got the Little One reasonably interested so we may take this for a spin at some point in the future.
Anyway, always a good Mutant 1984 angle to be found.
/Hope that was of some interest