In the previous post on this project I showed the Danish force sent to Holstein in 1700 (see here) the horse element of this army consisted of:
Uniform details can be found in the excellent source Tacitus.nu (well worth bookmarking for a lot of collected information on the Great Northern War, link here). For the Regiment that have missing information I went for Red facing colours (Bernstorffs regiment, but I will probably find that this is wrong when I dig deeper). Further information can be found in the translated version of Torstein Snorrason's Danish Cavalry Uniforms 1699-1712 (it was available on Dan Schorr's excellent Northern Wars page that is not longer available on the internet).
The base uniform is mainly a light grey colour with differing facings per regiment, I used the Vallejo Deck tan colour, the models have had Winsor Newton Nutbrown Ink applied to them. There are two bases (9 riders on each) for each of the regiments. As always they look a little bit dark at this stage before the basing as all bases are painted dark (shit) brown.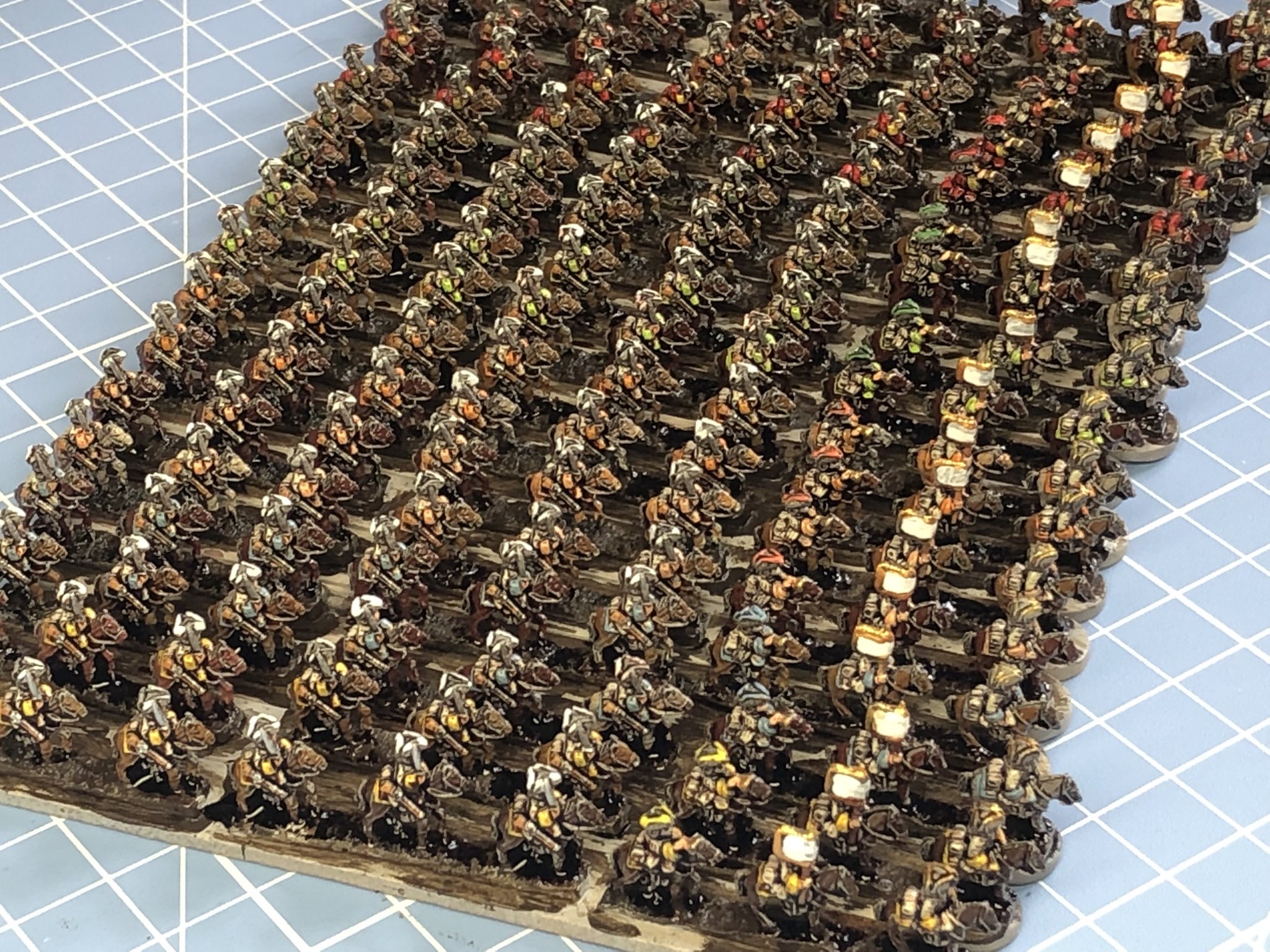 As you can see the standards are yet not painted but will be based the illustrations in "The Great Northern War 1700-1721 (Part 2), by Hoglund, Sallnas and Besplow" that contains all but 1 or 2 of the standards we need for these regiments. But that if for next time – it is always a little bit of an undertaking to paint a bath of 162 cavalry in one sitting and I need a little bit of recovery time.
So now I have done a significant part of this project, but there are some Swedish regiments and some of the allied forces left to do a well as Danish Dragoons, artillery and of course all the commanders. But that is for another time.
I also realised that I had the answer to the Holstein-Gottorp uniform details just in front of me in the eminent "Great Nothern War Compendium, Part 1" edited by Stephen L. Kling, Jr. and the "The Great Northern War 1700-1721" (mentioned above). Happy days.
And in other news I got myself a cutting mat, but instead of the traditional dark green I got a light blue (a2 size), it actually gives a lighter, i.e. more lit-up, working environment and it has positively affected my painting experience. Maybe it is just because it is new, but worth considering if you need to replace yours or are considering getting one.
/Anyway I hope that was of some interest